Meet Our Friendly Methuen, MA Dental Office Staff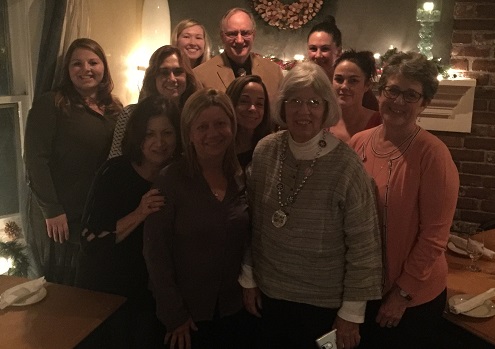 The first thing you'll notice when you walk into our Methuen family dental practice is the incredibly friendly
and inviting atmosphere. Members of our staff have been hand-picked to provide you the best possible experience during your visit to the dentist. Learn more about our team below.
Paula, Registered Dental Hygienist (RDH)
In 1982 Paula started her career in dentistry as a dental assistant, graduating from Boston University. She continued her studies receiving her Associates Degree in dental hygiene from Forsyth School of Dental Hygiene in 1984. In 1998 Paula joined the practice of Dr Albert Sandler in Methuen, MA. In 2007, Paula received her license to administer local anesthesia as a Registered Dental Hygienist for periodontal treatment. In her free time Paula enjoys biking, running, walking her dog, and spending time rooting for the Patriots with her family.
Ivanka, Registered Dental Hygienist (RDH)
Ivanka started her career in dentistry as a dental assistant, graduating from Northern Essex Dental Assisting program in 1998.She continued her studies recieving her associate degree in dental hygiene from Middlesex Community College in 2004. Ivanka joined the practice in 2005. In 2007 she recieved her license to administer local anesthesia as a registered dental hygienist for periodontal treatment. In her free time Ivanka enjoys vacationing with her family and is an avid gym member.
Diane, Office Manager Emeritus
Diane started in the field of dentistry in 1977 as a dental assistant working her way up as office receptionist, dental billing, financial coordinator and finally office manager. In 1994, Diane accepted an invitation to become the office manager for Dr. Albert Sandler's dental practice in Methuen, MA. Having worked in the dental field for close to 40 years, her experience and knowledge are of great benefit to both the patients and staff. Diane has been a wonderful mentor to our front office staff. When not working, Diane enjoys spending time doting on her three grandchildren.
Sarah, Certified Dental Assistant (CDA)
A graduate of the Northern Essex Community College Dental Assisting Program in 2003, Sarah actually started working with Dr. Albert Sandler in Methuen,MA in the fall of 2002, the year she started the program. Sarah has been a Certified Dental Assistant since 2003. In 2006, Sarah attained her certification in dental assisting for oral conscious sedation with DOCS, the organization for Doctors for Oral Conscious Sedation. "I love what I do and there is nothing more satisfying than seeing a patient that is happy at the end of their dental visit. Every year I enjoy participating in continuing education classes so that I am up to date with recent technologies and products. I hold a high respect for the quality of work that Dr. Sandler provides to his patients. Also, my family and I have been patients of Dr. Albert Sandler since I was an adolescent, always having a wonderful experience."
Kara , Office Manager/Financial Coordinator
Kara graduated from Southern New Hampshire University in 2004 with a BA in Child Development. Kara loves working with children, first as a developmental specialist in an early intervention program and later as a office coordinator for a Salem, NH pediatric medical practice. Kara joined the practice in 2013 as a financial coordinator and quickly ascended to office manger. Kara strives to help patients with any concerns or issues they may have with scheduling ,billing , and insurance. In her spare time, Kara loves spending time with her family and recreating in upstate NH.
Summer, Certified Dental Assistant (CDA)
Summer first entered Dr. Sandler's practice as a student during her dental assisting rotations while enrolled at Northern Essex Community College (NECCO) Dental Assisting Program. After attaining her AS from NECCO in May 2013, we, as well as Summer, were delighted to have her join our team in June 2013, Summer subsequently acquired her CDA certification in Sept 2013. In her spare time, Summer enjoys spending time with her family, traveling, and playing with her puppy, Jax. "I am very happy I started my dental career with Dr. Sandler's team. The staff is very friendly and the patients are great! I am excited to continue my education and expand my dental knowledge to better serve our patients."
Clarissa , Certified Dental Assistant (CDA)
Clarissa graduated with a Certificate from the Northern Essex Community College Accredited Dental Assisting Program in 2014 and subsequently received her Board Certified Dental Assisting License. She joined our team in December of 2014 and while working for Dr. Sandler, she has continued her education at NECC to receive an Associates in Health Specialization in 2016. She takes pride in making patients feel comfortable and at home when receiving dental treatment in our office. "I love working with the friendly team at Dr. Sandler's and appreciate the highest quality of care the whole team provides for our patients". Clarissa enjoys attending continuing education classes and expanding her knowledge of the newest advances in dentistry. In her spare time she enjoys baking, kayaking, and spending quality time with her family.