News From Our Methuen, Massachusetts Cosmetic Dental Practice
We believe in creating a relationship with our patients that goes beyond the office doors. We've specially created this section of our site to share with you important news from our Methuen family dental practice.

Sincerely,
Dr. Albert Sandler
Your Methuen Dentist
TOYS FOR TOTS
November 29, 2012
Once again we are collecting toys in our office for the US Marines holiday Toys for Tots program. Please consider dropping off a new, unwrapped toy to make some little one's christmas a little brighter. Toys are usuallly picked up by Dec 17th. Let's see if we can get the toy collection box overflowing! Happy Holidays!
Award Winning Digital Radiography System
January 13, 2012
"In December 2011, DEXIS received the Townie Choice Award® for 'Best Digital X-ray Sensor,' 'Best Digital Image Management Software' and 'Best Intra-oral Camera.'" We are proud to serve our patients with these products in our own office. Congratulations DEXIS!
Quote courtesy of DrBicuspid.com
Photo courtesy of Dexis.com
More Evidence Chocolate Lowers Stroke Risk
Allison Gandey - December 03, 2011
October 27, 2011 — Chocolate lovers may have another reason to indulge. A new study shows that consuming chocolate on a regular basis may decrease stroke risk by 20%.
New data on women studied in the Swedish Mammography Cohort found an inverse association between chocolate consumption and total stroke, as well as a trend to reduction in both hemorrhagic stroke and cerebral infarction subtypes.
"Even consuming a relatively small amount of chocolate had quite a large impact on stroke risk," lead investigator Susanna Larsson, PhD, from the National Institute of Environmental Medicine in Stockholm, Sweden, said in a news release. "But women reporting the highest amount of chocolate consumption [66.5 g] — equivalent to about 2 chocolate bars a week — had a significantly reduced risk of stroke, suggesting that higher intakes are necessary for a potentially protective effect."
The results appear in the October 18 issue of the Journal of the American College of Cardiology.
Asked by Medscape Medical News to comment on the findings, Philip Gorelick, MD, from the University of Illinois College of Medicine in Chicago, called the work "provocative."
"Interestingly, women with hypertension had a reduction of stroke risk with chocolate consumption that was not statistically significant, whereas those without hypertension had a statistically significant risk reduction for stroke," he noted. "Higher chocolate consumption seemed to be most beneficial in relation to stroke reduction."
The study included 33,372 women enrolled in the population-based Swedish Mammography Cohort. Using a validated food-frequency questionnaire, the researchers asked participants to disclose how often on average they consumed chocolate and a variety of other foods during the previous year.
Investigators then stratified the women into categories ranging from never eating chocolate to those who indulged 3 or more times a week and examined the risk for stroke during a mean follow-up of 10 years, adjusting for major risk factors associated with stroke.
The researchers identified 1549 strokes. Of these, 1200 were cerebral infarctions, 224 were hemorrhagic strokes, and 125 were unspecified. Chocolate consumption was inversely associated with risk for total stroke, cerebral infarction, and hemorrhagic stroke.
Table. Multivariable Stroke Risk for a 50 g per Week Increase in Chocolate
| | | |
| --- | --- | --- |
| Stroke | Relative Risk | 95% Confidence Interval |
| Total | 0.86 | 0.77 - 0.96 |
| Cerebral infarction | 0.88 | 0.77 - 0.99 |
| Hemorrhagic | 0.73 | 0.54 - 0.99 |
The difference in risk estimates for cerebral infarction and hemorrhagic stroke was not significant (P = .28).
"The difference between stroke subtypes was not significant, and deserves further study," Dr. Larsson said. "It does appear from the data that the association between chocolate consumption and stroke is expected to be stronger with higher concentration of cocoa in the chocolate."
Chocolate is thought to have cardiovascular benefits resulting from the flavonoids in cocoa that have antioxidant properties. Antioxidants protect the body from damage caused by free radicals and can suppress oxidation of low-density lipoprotein. Dark chocolate consumption has also been shown to reduce blood pressure, which is a strong risk factor for stroke, as well as improve endothelial and platelet function and heighten insulin resistance.
Indulgence in chocolate in moderation remains a reasonable approach.
Still, Dr. Larsson cautions that chocolate, and especially chocolate bars, are high in sugar, fat, and calories and should therefore be consumed in moderation. "Choose dark chocolate," she said, "which is usually lower in sugar and has higher flavonoid content."
On the surface, the results may be good news for women who are chocolate lovers, as they may be protected from stroke, Dr. Gorelick noted.
"One must keep in mind, however, that food-frequency studies focus on individual food components and provide useful information, but may not account for the totality of dietary experience." Overall, scores reflecting many dietary components may be a better indicator of risk for cardiovascular disease and other chronic disease, he suggests.
"For the time being, it is prudent to eat a heart-healthy diet, such as that recommended by the American Heart Association, and not get caught up in overeating chocolates in hopes of warding off strokes," he added. "Diets rich in fruits and vegetables and low in fats such as saturated fats are likely to be the best bet. Indulgence in chocolate in moderation remains a reasonable approach."
A Little Imperfection For That Smile?
Austine Considine, NY TIMES - November 13, 2011

By AUSTIN CONSIDINE From the New York Times
AMERICANS are expected to spend nearly $110 billion on dental care in 2012, according to the United States Department of Health and Human Services, with much of it to straighten, whiten and repair less-than-perfect teeth. Meanwhile, in Japan, a new fashion has women paying to have their straight teeth purposefully disarranged.
A result of tooth-crowding commonly derided in the United States as "snaggleteeth" or "fangs," the look is called "yaeba" in Japanese or "double tooth." Japanese men are said to find this attractive: blogs are devoted to yaeba, celebrities display it proudly, and now some women are paying dentists to create it artificially by affixing plastic fronts to their real teeth.
"It's not like here, where perfect, straight, picket-fence teeth are considered beautiful," said Michelle Phan, a Vietnamese-American based in Los Angeles, who wrote about the phenomenon on her popular beauty blog. "In Japan, in fact, crooked teeth are actually endearing, and it shows that a girl is not perfect. And, in a way, men find that more approachable than someone who is too overly perfect." The imperfect teeth phenomenon has its Western equivalents. In an episode of the reality show "America's Top Model" last year, the host and model Tyra Banks encouraged one contestant to have the gap between her two front teeth widened.
"Make it as big as you want it," the contestant replied excitedly.
As the writers at the celebrity and fashion blog Jezebel noted at the time, Ms. Banks had instructed a model in a previous season to minimize her gap — presumably when gapped teeth weren't so in fashion.
The gap craze has come and gone several times over the years (Lauren Hutton popularized it in the 1970s), but has seen a comeback recently with popular models like Lara Stone and Georgia Jagger.
Dr. Emilie Zaslow, an assistant professor of communication studies at Pace University in Manhattan, who has studied gender identity and beauty in consumer culture, noted that such ever-shifting tastes often have one thing in common: a fixation with youth.
"The gapped tooth is sort of preorthodontic or early development, and the naturally occurring yaeba is because of delayed baby teeth, or a mouth that's too small," she said. "It's this kind of emphasis on youth and the sexualization of young girls."
Falsely imperfect teeth aren't easy for everyone to swallow, perhaps because for most people, imperfections come naturally but don't score multimillion-dollar contracts. (According to a Forbes report in May, Ms. Stone had earned $4.5 million in the preceding 12 months.) Dr. Zaslow suggested that contrived imperfections like yaeba teeth have nothing to do with imperfection. "It's not based in self-acceptance," she said.
In other words, it's as phony as Botox. "It's still women changing their appearance primarily for men," Dr. Zaslow said.
Sonicaire Airflosser
Dr Albert Sandler - October 26, 2011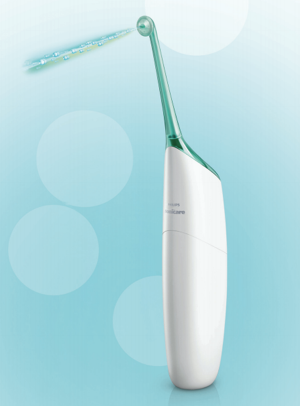 At Dr Albert Sandler's in Methuen MA, we are very excited to introduce to our patients a new oral hygiene product from Phillips, the Sonicaire Airflosser. It is designed to provide an alternative to those patients who will just not floss. Adding either water or your favorite mouthwash to it and holding the nozzle between the teeth, it produces a quick powerful air/liquid blast that blows out food debris and plaque from between the teeth.
I have found that our teenage children love it, getting a big thumbs up from my own daughters and the son of one of our hygienists. They LOVE using it. It is perfect for braces which are such a hassle to get kids to perform proper oral hygiene around. We already have 15 patients who want one but they are backordered almost 2 months because of heavy demand. As always, we will price them in the offce for less than they can be found retail, just like our other Sonicaire products. More information will be provided as We get it in.
Check out our new website!
Dr Albert Sandler - October 03, 2011
We are pleased to introduce you to our brand new website. Here you can find information about our office including the procedures we offer, a smile gallery, testimonials, about the doctor and more. In addition, we'll be using this page to keep you posted on the latest news from our Methuen, MA cosmetic and family dental office. Have a look around, and let us know if you have any suggestions. Enjoy!